The Nebraska County Attorneys Association advocates for public policies that strengthen county attorneys' ability to secure justice for crime victims and serve as legal counsel to their county.
We provide continuing legal education programs, service, support and resources to the county attorneys and staff to enhance and improve the quality of all prosecution throughout the State and facilitate access to best practices in law enforcement and public safety.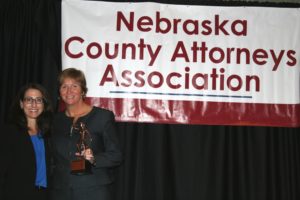 Melanie Young, Chief Deputy in Buffalo County and incoming President of the Nebraska County Attorneys Association congratulates outgoing President, Brenda Beadle, Chief Douglas County Attorney.
Nebraska County Attorneys Association
Our Association is dedicated to helping Nebraska's County Attorney's provide the best possible public service in their dual role of Prosecutor and Civil Attorney for each of Nebraska's 93 Counties.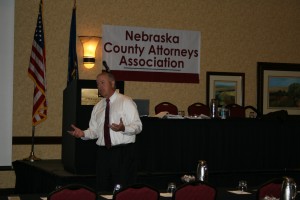 2017  Conference Dates:
2017 Spring Conference
May 17-19, 2017
Holiday Inn
Kearney, NE
2017 Fall Conference
October 11-13, 2017
The Graduate Hotel
Lincoln, NE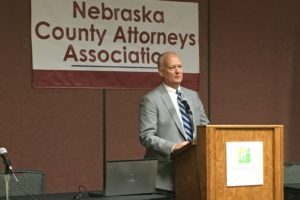 Attorney General Doug Peterson presented during the spring conference.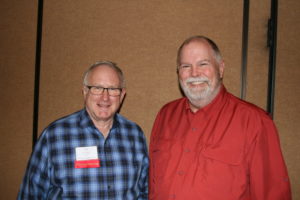 Membership
Membership in the Association is open to County Attorneys and their deputies.