Welcome to the website of the Nebraska County Attorneys Association!
Our Association is dedicated to helping Nebraska's County Attorney's provide the best possible public service in their dual role of Prosecutor and Civil Attorney for each of Nebraska's 93 Counties.
The Association provides its members with quality training and education. The Association participates vigorously in the Legislative process in those matters affecting the County Attorney and the administration of the Justice System.
Membership in the Association is open to County Attorneys and their deputies.
To contact the county attorney in your county click here.
2014 Conference Dates:
Spring – May 21-23, 2014
Holiday Inn
Kearney, NE
Fall – October 8-10, 2014
Embassy Suites Old Market
Omaha, NE
~ ~ ~ ~ ~ ~ ~ ~ ~ ~ ~ ~ ~ ~ ~ ~ ~ ~
The Fall Conference was held October 2-4, 2013 in Lincoln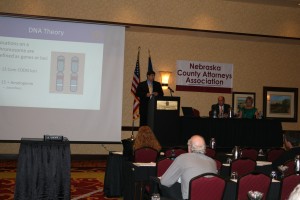 DNA Presentation by Jason Linder, State Patrol Lab;
Corey O'Brien, Assistant Attorney General; and Melissa Helligso, UNMC
Considerations Regarding Using Co-Defendants as Witnesses presented by:
Don Kleine and Brenda Beadle
Douglas County Attorneys Office
Attorney General Jon Bruning stopped by!
Visiting with Pat Condon, Lancaster County and
Liz Waterman, Dawson County.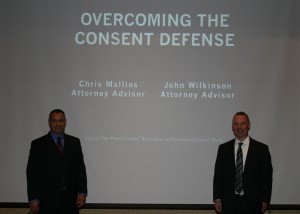 Presenters from AEquitas – Prosecutors' Resource on Violence Against Women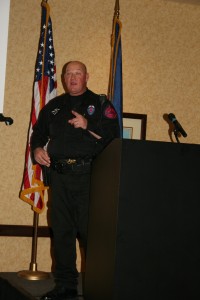 Lt. Andrew Duis, Division Commander and Head Trainer
Police Service Dog Division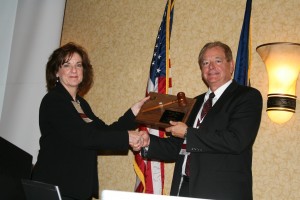 Incoming President Liz Waterman presents leadership award to
outgoing President, Dave Wilson